So you're down on one knee, staring up at your lady.  The Sun is setting just behind her head and she's radiating like an angel.  She knows what's coming next and you know she'll say yes, but you're more nervous than that time when you 16 and held for questioning by the cops for some "missing" street signs from around your neighborhood.  Shaking, you pop the question.  A celebration ensues with phone calls, text messages, and Facebook postings littering your life with congratulations.  The dust settles the next day and she comes back to you, wearing that ring you saved so much for, with a little box of her own.  She opens it, and inside is a thicker ring than she would normally wear.  In fact, it looks like a dude's wedding ring!  Confused, you ask what it is.  The next day you show up at work with your new mangagement ring.  That's right, your friends are going to giggle.
Like it or not, a new trend has been developing over the last few years called "mangagement rings" or male engagement rings.  Details Magazine did some digging around and has found some men lucky enough to get to wear one.  They also found a jewelry store that reports 25 or so inquiries a week about male engagement rings from women interested in proposing.  As far as good journalism goes Details seems to actually have editors not totally obsessed with the materialism that fills their pages.  Otherwise I might now have read this perfect quote:
"We're in a rough economy. The groom's engagement band is just a sales tactic invented by jewelers to trick young couples into spending money."
That pretty much sums up how most of you are feeling about this.  The jewelry industry gave us the original engagement ring and now they're convincing us we need one for dudes too.  This is simply a ridiculous sales tactic designed to milk what little money us 20-somethings have.  And I love it.
That's right, I think the mangagement ring is a brilliant idea.  For too long women have fought to be equals in what is still a patriarchal society.  The female engagement ring is an extension of thousands of years of men "marking" their women.  Whether it be a different colored bonnet, a metal ring or bracelet, a colored dot on the forehead, or even urine, we men of all species have always marked our territory and women are our most prized possession.  I'm a firm believer that since women fought for equal rights, they should have it!
Not until after WWII did men start wearing wedding rings with any regularity, so it comes as no surprise that we are starting to wear engagement rings too.  It's the perfect example of societal evolution.  I would not be surprised if some day my son (mind you I currently have no children) came home to show me his engagement ring.  However, if there's one thing I hate it's when marketers "create" traditions to line their pockets.  So I have a few tweaks to the plan:
In the United States most married couples wear their rings on the left hand.  Instead of buying a different ring to show engagement, why not simply buy the wedding ring you want and put it on your right hand?  Just like we move the tassels at graduation the wedding ceremony could see the bride removing the ring from her groom's right hand and putting it on his left.  Likewise he would do the same for her.  It's just as symbolic, if not potentially more symbolic, than the current system.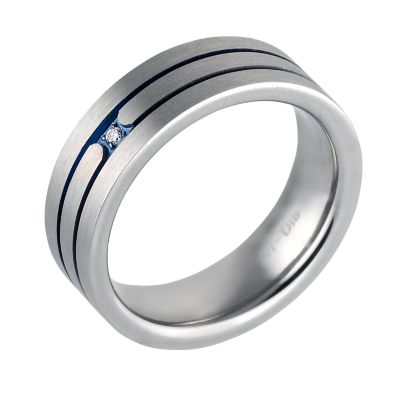 My plan likely won't work but with any luck the jewelers will still shoot themselves in the foot.  Right now a trendy men's engagement ring from H. Samuel sells for £80 in the UK which is about $130 US.  That's dirt cheap!  We might see a downward trend of spending on engagement rings for women as a result.  Since the men will likely ditch these rings once married it stands to reason that women may start to prefer an engagement ring that will also cease to be worn after the wedding ceremony.  A more disposable ring (for lack of a better term) would likely demand a much smaller budget.
Don't let me fool you about the mangagement ring too much.  When I said "I love it" I was really talking about I love where this trend is going as I explained above.  I wouldn't be caught dead with one in society's current state of evolution, but I won't pass judgment on those that do.